ASUS
ASUS Gaming Headset ROG Delta S
RM 299.67
with 3 installment via
---
ROG Delta S
Lightweight USB-C gaming headset with AI noise-canceling mic, MQA rendering technology, Hi-Res ESS 9281 QUAD DAC, RGB lighting, compatible with PC, Nintendo Switch™ and Sony PlayStation®5
Features industry-leading high-resolution ESS 9281 with QUAD DAC™ technology, plus MQA technology support to deliver impeccably detailed, true-to-life audio
ASUS AI Noise-Canceling Microphone offers crystal-clear in-game voice communication
Customizable, multi-color RGB lighting and unique Soundwave Light mode let you shine in style
Exclusive ASUS Essence drivers, airtight chamber design and audio signal diversion technology work in unison to produce immersive audio
Lightweight 300-gram design provides maximum comfort
Ergonomic and fast-cooling D-shaped ear cushions ensure a perfect fit
USB-C® connector ensures compatibility with PCs, Mac, mobile devices and game consoles such as Nintendo Switch™ and Sony PlayStation®.
Dominate with superior sound
ROG Delta S gaming headset delivers impeccably clear, detailed audio to give serious gamers the edge to win. It features industry-leading, hi-fi-grade ESS 9281 with QUAD DAC™ technology and the ASUS AI Noise-Canceling Microphone. At a total weight of just 300 grams, and with ergonomic D-shaped ROG Hybrid ear cushions, ROG Delta S offers unmatched comfort during extended gaming sessions. Its USB-C® connector allows you to play on your PC and then jump to your gaming console or mobile device without having to change headsets.
High-Resolution ESS 9281 Quad-DAC
The ESS 9281 digital-to-analog converter (DAC) features QUAD DAC™ technology to provide lossless audio processing. Each of its four DACs devotes processing power to a subset of the audible frequency range, from lows, mids, highs to ultra-highs. The four signals are then combined, which produces clearer sound with an impressive 130 dB signal-to-noise ratio that's much higher than any other comparable device in the market. Hear every detail and enjoy crisp, clear sound for a true-to-life audio experience with ROG Delta S.
Built in MQA Renderer
Master Quality Authenticated (MQA) is an award-winning audio technology that delivers studio-quality sound and reveals every detail of the original recording. MQA Renderer technology in the ROG Delta S headset can connect to an MQA core signal – in global streaming service apps such as TIDAL – to complete the final "unfold" of an MQA music file and provide incredible audio quality.
Hign SNR
Essence Drivers
Hyper-Grounding Tech
High SNR in FPS Games
A high signal-to-noise ratio (SNR) is critical for gaming headsets, especially in FPS games. A higher SNR allows you to precisely pinpoint the origin of enemy footsteps, or hone in on the location of gunfire or explosions on the battlefield. With its quad-DAC design, ROG Delta S is capable of achieving an unprecedented SNR ratio of 130 dB, a level untouched by single-DAC gaming headsets.

AI Noise-Canceling Microphone
The ASUS AI noise-canceling microphone (AI Mic) has a dedicated processor that's designed to reduce over 50 million types of background noise while preserving vocal harmonics for crystal-clear in-game voice communication. Common background noises such as chatter, keyboard clatter and mouse clicks are reduced by up to 95%.

The AI Mic is unidirectional, detachable, and certified by both Discord and TeamSpeak. An indicator light on the tip of the boom flashes red when the microphone is muted, so you can easily determine its status.
Hear the difference
Delta S AI Mic off
Delta S AI Mic on
Soundwave Light Effects
ASUS Aura Sync RGB Lighting
Soundwave Light Effects
An exclusive Soundwave light effect makes lights flash in sync with the sound of your voice.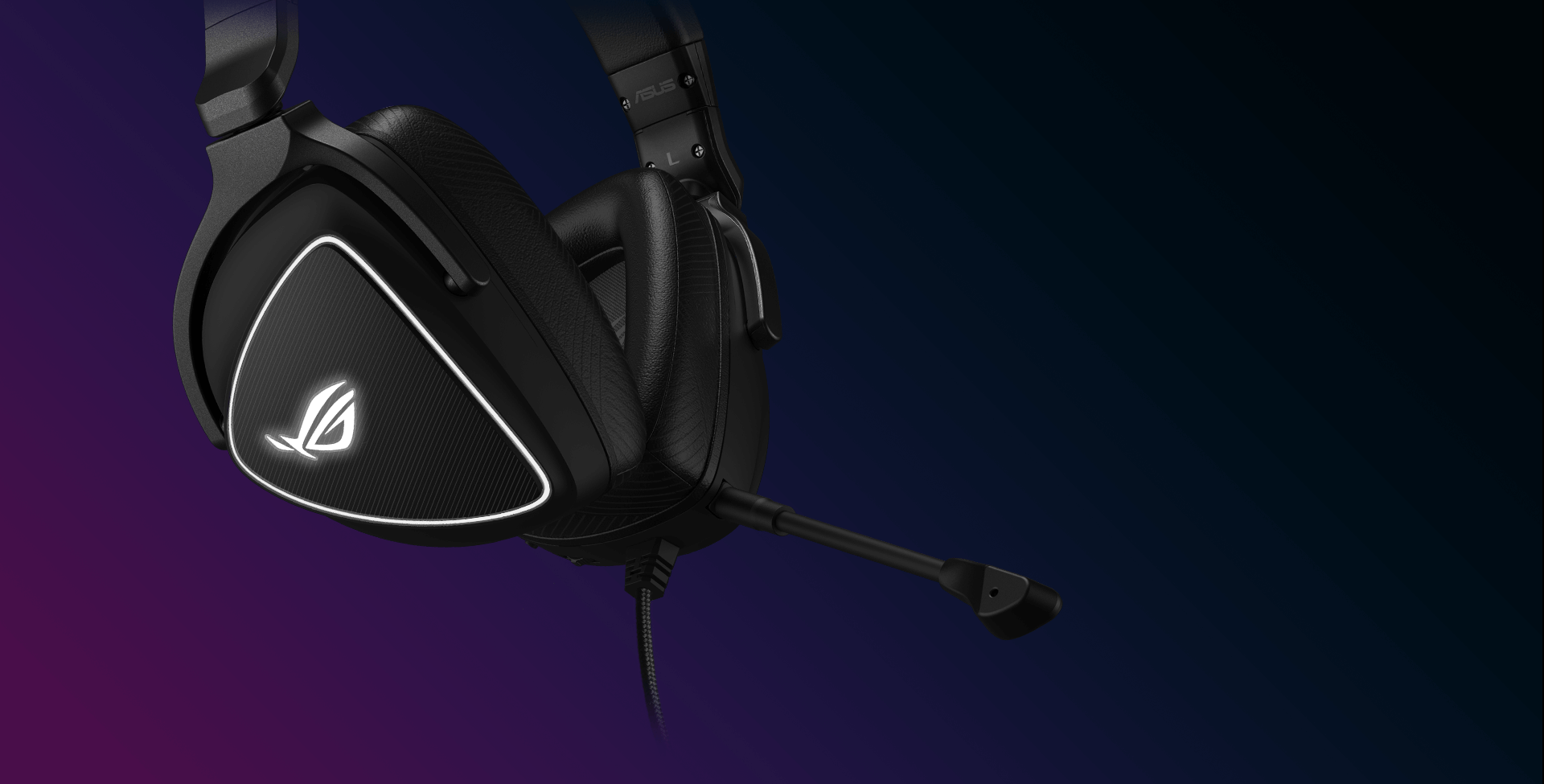 Multiplatform Compatibility
The USB-C® connector enables high-fidelity audio* experiences with PCs, Mac, mobile devices and game consoles such as Nintendo Switch and Sony PlayStation**.
*Surround sound available only on compatible devices or via Armoury Crate software.
**Use of bundled USB-C to USB 2.0 adapter cable required.

Crafted for Comfort
Two Typed of Fit and Feel
Crafted for Comfort
Compared to oval ear cups, the ergonomic D-shaped ear cups of ROG Delta S closely match the shape of your ears, reducing unnecessary contact areas by up to 20%. The drivers in each ear cup are tilted by 12 degrees, closely matching the natural angle of human ears. The sloped design provides better comfort and also helps improve sound quality by enabling the audio signal to travel directly into the ear canal.

The cushions are made of 100% protein leather and fast-cooling memory foam, so you stay comfortable during long gaming sessions.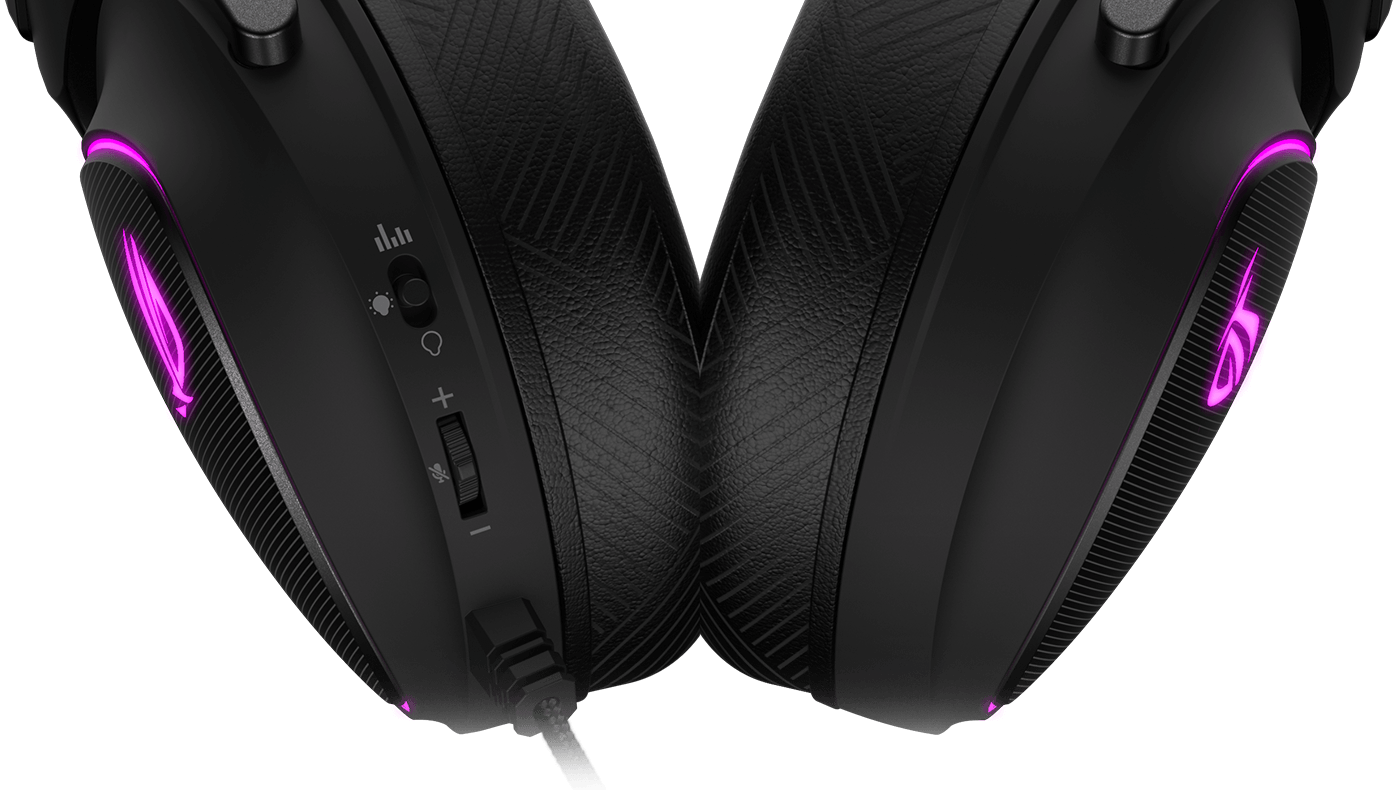 Instant Control at Your Fingertips
Intuitive control buttons on the ear cup let you instantly control volume, mute the microphone or adjust RGB lighting during gameplay.
Top : Soundwave light mode on
Middle : Aura RGB on
Bottom : Aura RGB off
Scroll up or down to increase or decrease volume
Push to mute or unmute microphone
Armoury Crate
Armoury Crate software offers extensive controls and an intuitive UI, so you can take full control of your audio experience. It makes it easy to create and apply audio profiles for a wide range of games and scenarios.